DeadboltEdit.org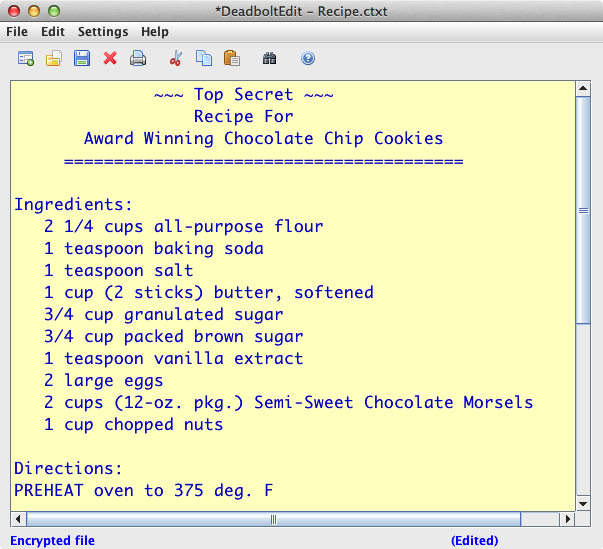 (Click To Enlarge)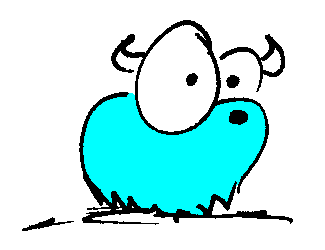 Secure encrypting text editor for Mac OS X™, Windows™, and Linux™. DeadboltEdit is a basic text editor that uses strong encryption to store files.
FREE to download and use. DeadboltEdit is open source and made available subject to the terms of the Mozilla Public License 2.0.
The program can be used to safely edit and store sensitive information, such as website login information and other personal information, that you would not want disclosed if your computer is stolen, compromised by malware, or used by other people.
Encrypted notes can also be used as e-mail attachments; you can send them to another DeadboltEdit user.
Features
Cross platform - versions for Mac OS X™, Windows™, and Linux™.
Easy to use - Encryption is integral and seamless. Just save the file, and enter a password when prompted.
Strong Blowfish encryption.
Encrypted note files can be shared between Windows, Mac, and Linux systems.
Encrypted note files can be sent as e-mail attachments. (UTF-8 character encoded, MIME-compliant formatting)
Secure handling of encryption passwords. Passwords and encryption keys are never stored anywhere. Passwords are internally encrypted while held in memory, except for the brief time they are used to generate encryption/decryption keys.
File Checking: Two levels of file integrity checking each time a file is opened to guard against file corruption and file tampering. (A very useful feature when files have been sent as e-mail attachments)
Encryption and decryption are done within program memory, using an OpenSSL-compatible library. No temporary files, and no use of external encryption programs. (much more secure)
Blowfish encryption is compatible with the OpenSSL implementation. (not file compatible with OpenSSL) For more information, please see technical article "OpenSSL Compatibility", which is also on the Support page.
I Hope You Enjoy Using DeadboltEdit ...
and I hope your computing experience becomes a little safer and more secure.

I truly want you to have a good experience with the editor - Please visit the Support page for a couple of important tips to help you get started.
//www.deadboltedit.org
---
Copyright 2012 - 2023
Michael Wright
All Rights Reserved